1`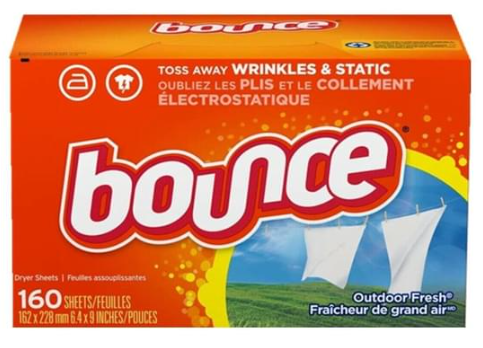 Bounce Fabric Softener Dryer Sheets
---
For relevant products Click

HERE

to find out more about Best Before Vs Expiry Dates. We do not sell items with expiry dates.
Outdoor Fresh scent - Box of 160 sheets.
Loonie & Twonie Saver Tip: cut in half if using in the dryer to get more of them! 
Helps repel lint and softens fabrics with long-lasting freshness. . Controls static cling when used in the dryer. 

Other great uses:
Place a sheet inside each shoe (when you're not wearing them) to absorb excess moisture that causes odour
Use on shower screens to remove soap scum (lightly wet with water and scrub away)
Keep used dryer sheets and use as computer/tablet and television screen wipes - no need to wet them either!
Repel the brown marmorated stink bug (BMSB) - Rub onto window screens/edges of doors to keep them from entering through these areas of the home 
To review shipping policy click here _____ Best Before Dates VS Expiry Dates on applicable products
O Canada does not stock any products that have "expiry" or "use by" dates.
For more information regarding the differences between "best before" dates and "expiry"/"use by" dates, you can view directly on the food standards website.
click here
This is an Extracts from Food Standards:
Most foods have a best before date. You can still eat foods for a while after the best before date as they should be safe but they may have lost some quality. Foods that have a best before date can legally be sold after that date provided the food is fit for human consumption. The only food that can have a different date mark on it is bread, which can be labelled with a baked on or baked for date if its shelf life is less than seven days. Foods that have a shelf life of two years or longer, e.g. some canned foods, do not need to be labelled with a best before date. This is because it is difficult to give the consumer an accurate guide as to how long these foods will keep, as they may retain their quality for many years and are likely to be consumed well before they spoil.

Liquid error (layout/theme line 281): Could not find asset snippets/limitsify.liquid