1`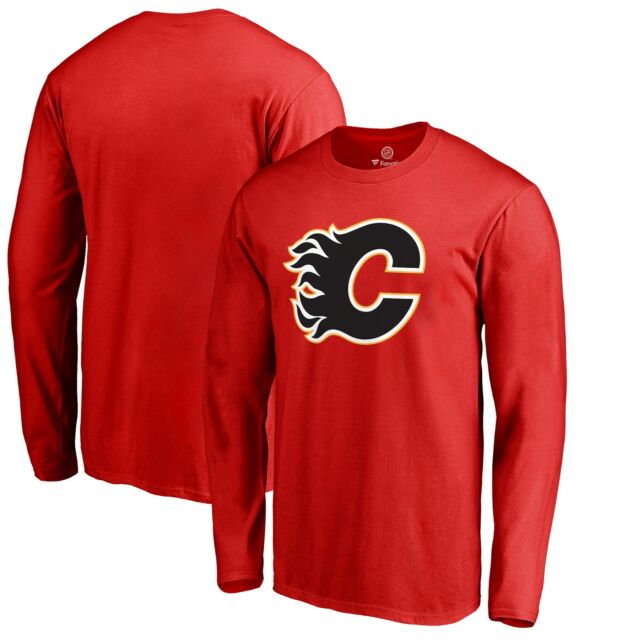 Men's Calgary Flames Fanatics Branded Red Primary Logo - Long Sleeve T-Shirt
---
For relevant products Click

HERE

to find out more about Best Before Vs Expiry Dates. We do not sell items with expiry dates.
If you are the biggest Calgary Flames fan around, grab this Primary Logo Long Sleeve t-shirt to show off your pride. This Fanatics Branded gear features bold, eye-catching graphics that will leave no doubt to where your allegiance lies. Sport this sweet tee and let your Calgary Flames fandom shine!

Regular Fit: Not too slim, not too loose. Designed with a relaxed fit through shoulders, chest and waist.
Sizing Tip: Product runs large. We recommend ordering one size smaller than you normally wear.
Material: 100% Cotton
Crew neck
Long sleeve
Screen print graphics
Officially licensed
To review shipping policy click here _____ Best Before Dates VS Expiry Dates on applicable products
O Canada does not stock any products that have "expiry" or "use by" dates.
For more information regarding the differences between "best before" dates and "expiry"/"use by" dates, you can view directly on the food standards website.
click here
This is an Extracts from Food Standards:
Most foods have a best before date. You can still eat foods for a while after the best before date as they should be safe but they may have lost some quality. Foods that have a best before date can legally be sold after that date provided the food is fit for human consumption. The only food that can have a different date mark on it is bread, which can be labelled with a baked on or baked for date if its shelf life is less than seven days. Foods that have a shelf life of two years or longer, e.g. some canned foods, do not need to be labelled with a best before date. This is because it is difficult to give the consumer an accurate guide as to how long these foods will keep, as they may retain their quality for many years and are likely to be consumed well before they spoil.

Liquid error (layout/theme line 281): Could not find asset snippets/limitsify.liquid